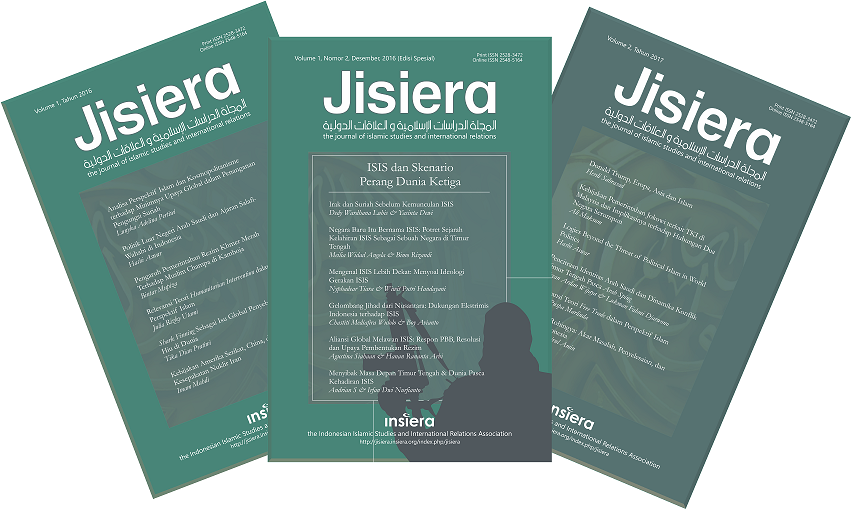 About the Journal
The Journal of Islamic Studies and International Relations, known as Jisiera, is an annual academic journal published by the Indonesian Islamic Studies and International Relations Association (Insiera). Publication of this journal aimed as an intellectual communication bridge that strengthens Insiera's network and disseminates thoughts or research works that contributed positively towards the development of science and Ummah (global Islamic community).
Jisiera promotes academic debates by providing scientific articles with all available academic approaches (intradisciplinary, crossdisciplinary, multidisciplinary, interdisciplinary, and transdisciplinary) focusing on issues related to Islam, the Muslim World, and International Relations. Particular attention is given to articles discussing Islamic Studies approaches in International Relations and the application of Islamic perspective in International Relations. Although, Jisiera is not constrained to the discussion merely on those particular themes.
All articles published in Jisiera have been indexed by OpenAIRE and accordingly, they have a unique DOI number.
Current Issue
Vol. 5 No. 1 (2020): Jisiera Volume 5, Agustus, 2020
Akhir kepemimpinan Joko Widodo pada periode pertamanya, menorehkan tinta sejarah baru bagi publik tanah air tatkala wacana Khilafah menjadi marak diperbincangkan hingga berujung pada pelarangan organisasi trans-nasional Hizbut Tahrir. Wacana Khilafah sejatinya bukan saja domain Hizbut Tahrir, para ulama Islam telah membingkainya melalui pembahasan di banyak kitab fiqih, hingga tidak ada seorang pun menyangkal bahwa wacana tersebut merupakan bagian dari ajaran sekaligus kenyataan sejarah umat Islam. Jisiera edisi 2020 tertarik untuk mengupas wacana tersebut, tentu dalam koridor demi membuka pintu diskusi ilmiah yang terbuka akan kritik sehat nan konstruktif. Edisi kali ini terasa spesial dengan hadirnya tiga artikel menarik yang membahas persoalan politik internasional dengan pendekatan kuantitatif. Selama ini publik tanah air sangat jarang menikmati tulisan ilmiah dalam bidang hubungan internasional melalui pendekatan kuantitatif. Tiga analisa perbandingan politik model many, few, dan single country disajikan komplit secara berurutan. Selamat menikmati hidangan intelektual kami di tahun pandemi ini.
View All Issues
Indexed by: