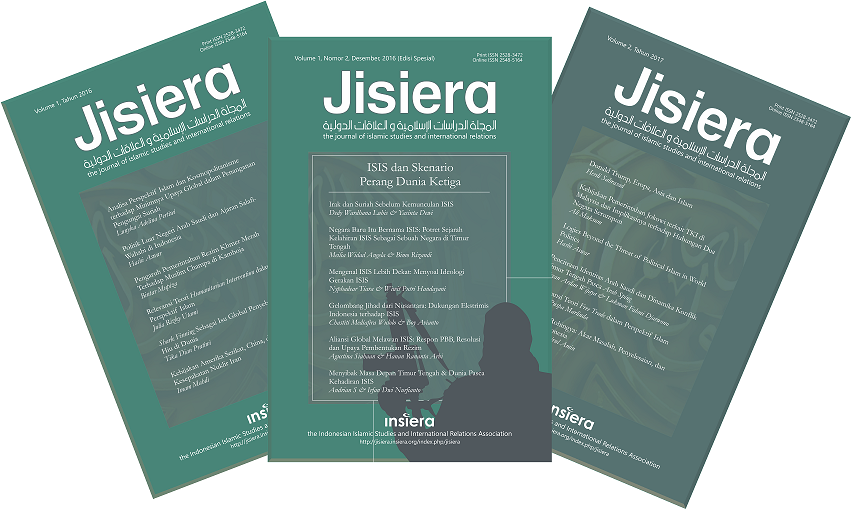 About the Journal
The Journal of Islamic Studies and International Relations, known as Jisiera, is an annual academic journal published by the Indonesian Islamic Studies and International Relations Association (Insiera). Publication of this journal aimed as an intellectual communication bridge that strengthens Insiera's network and disseminates thoughts or research works that contributed positively towards the development of science and Ummah (global Islamic community).
Jisiera promotes academic debates by providing scientific articles with all available academic approaches (intradisciplinary, crossdisciplinary, multidisciplinary, interdisciplinary, and transdisciplinary) focusing on issues related to Islam, the Muslim World, and International Relations. Particular attention is given to articles discussing Islamic Studies approaches in International Relations and the application of Islamic perspective in International Relations. Although, Jisiera is not constrained to the discussion merely on those particular themes.
All articles published in Jisiera have been indexed by OpenAIRE and accordingly, they have a unique DOI number.
Current Issue
Vol. 6 No. 2 (2023): Jisiera Volume 6, Oktober, 2023
Alhamdulillah, puji Syukur kami panjatkan kehadirat Allah Swt, yang mana atas limpahan dan karunianya JISIERA Edisi Oktober 2023, berhasil diterbitkan. Shalawat dan salam senantiasa kami haturkan kepada Nabi Muhammad Saw, yang kita nantikan syafa'atnya di hari akhir, amin.
Pada edisi ini, kami mengucapkan terima kasih dan selamat kepada para penulis yang telah menyampaikan gagasan bernasnya melalui jurnal ini. Pada edisi ini, tampak para penulis semakin antusias membongkar berbagai dinamika hubungan internasional di dunia Islam. Misalnya terkait isu gender dan UN Women di Nigeria, isu krisis pangan dan politik di Afghanistan, Turki, dan dinamika dakwah Muhammadiyah di Australia. Kami yakin, pemikiran para penulis pada edisi ini semakin menguatkan dan berkontribusi terhadap pengetahuan khususnya terkait kajian hubungan internasional dan Islam.
Pada kesempatan ini kami mengucapkan terima kasih kepada para pihak yang telah membantu penerbitan edisi ini khususnya Ketua Umum INSIERA Hasbi Aswar, Ahmad Sahide, dan Journal Manager Diana Mutiara Bahari serta para reviewer yang bekerja dengan penuh dedikasi. Akhirnya, selamat kepada para penulis dan selamat membaca.
View All Issues
Indexed by: